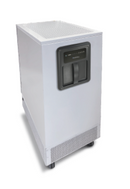 Description
The HW 950P surpasses all other types of filtration. This revolutionary technology traps microorganisms such as bacteria, mold and viruses, reduces bioburden and
inhibits microorganism's growth through Microbiostatic condition, resulting in the most powerful indoor air purification in the world.. Powerful enough to protect the entire office up to 3000 square feet.
Payment & Security
Your payment information is processed securely. We do not store credit card details nor have access to your credit card information.